Frequently Asked Questions
Check out this page to get the answers to the most commonly asked questions about doing business with us. We will continually add to the questions (and answers) as more are raised. 
What is Long Arm Quilting?
We use a long arm sewing machine to sew together a quilt top, quilt batting and quilt backing into a finished quilt. The long arm sewing machine is an industrial sewing machine, with a longer arm than a standard sewing machine. We can work efficiently and accurately to make sure that all your hard work in creating the quilt top is finished in a professional way. Our long arm machine takes significantly less time than hand quilting or quilting on a domestic machine. This time saving is a large factor in the gain in popularity of long arm quilting. The availability of relatively quick and reasonably affordable quilting services has helped to cause a surge in the quilting business and an overall growth in interest in quilting as an art form.
What sort of machine do you use?
I use an industrial Long arm quilting machine called the Gammill Classic Statler Stitcher® utilizes computer software and hardware to operate a longarm quilting machine capable of stitching almost any design. A Gammill® machine equipped with Statler Stitcher® can handle an intricately patterned king-size quilt in a matter of hours instead of days, and is guided by the computer instead of by hand. The system can determine the pattern size, block size, stitches per inch, and repetitions of the pattern as well as any offset of the pattern.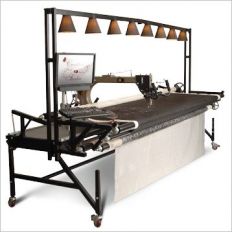 Why should I get someone to finish my quilt?
If you are like most quilters, you love to piece those quilt tops but are then faced with the dilemma of how to handle that large quilt in a small home sewing machine. Hand quilting is one option but that is going to take months and you most people don't have that kind of time. Often, people get the fun part completed and then the quilt top ends up in a drawer somewhere. We can help you finish your quilt, allowing you to start your next quilting project!
Faster: Our long arm quilting service offers a faster and easier way.
Durable: Machine quilting is also more durable than hand quilting so when trying to decide between hand or machine ask yourself if this quilt will be washed a great deal and if so I would recommend machine quilting.
Consistent Stitch: The regulated stitching of the computerized long arm machine means that the stitches are of a consistent length and quality with no missed stitches or bad stitches.
Quality: While a Long Arm Quilting Machine is easy to use, it's only as good as it's operator. I take pride in my work as if the quilts were my own and through years of experience I aim to provide highest standard of craftsman ship for yours.
How much does your long arm quilting service cost?
The price to have a quilt sewn together by a longarm quilter like myself varies. And mostly depends on the type of quilting that you require, the size of the quilt, the complexity and a few other factors. You are welcome to send through your details for a quote by completing the Customer Booking Sheet on the Services Page. The best option is to call me to discuss your requirements and I can give you a quote. Please note that I do not quote on your project "site unseen". To see what I charge for specific product and services refer to the Machine Quilting Service Pricing section on my Services Page.
Can I prepare the quilt top to make your job easier?
Yes, there are a few things you can do to save some time at my end by preparing your quilt for me:
Quilt needs to be clean.
Press quilt top and backing well.
Trim any loose threads.
Square your top and backing and make sure your seams all lay flat.
Your batting and backing must be at least 4 inches larger than your quilt top on all sides. For example, if your quilt top is 20 x 20, your backing and batting must be at least 28 x 28.
If there is a top side to your quilt top and/or backing, please mark it somehow.
Please do not pin or baste your layers together, the layers are held flat between the rollers on the long arm machine.
For more details on what to do about preparing your quilt refer to the Services page of this website Preparing your Project for Quilting
How long will it take to get my quilt done?
Generally quilts are processed on a first come first served basis. Because I will have any number of quilts awaiting my attention it is better that you get your quilt to me at the earliest opportunity. If you have a fixed deadline to meet (someone's birthday or a Quilt Show entry date) then do not leave it till the last minute before bringing your quilt to me.
Once your quilt is scheduled to be loaded onto the long arm machine for stitching then assuming there are no issues it will only be a matter of a few hours or few days before it is completed. The time to quilt variation will depend on what style of stitching you have requested, the size of the quilt and any other mitigating circumstances such as embellishments and complexity of design.
How do I calculate the size of my quilt?
I do my calculations for quoting in meters. Start by measuring the height and width of your quilt top in cm. Multiply the two figures together to give you the number of square centimeters. Then Divide by 100 to give the answer in square meters.
For example: If your quilt measures 140 cm x 160 cm (1.4 x 1.6 = 2.24 square meters.)
What is the biggest size Quilt that can be quilted?
There is a maximum size of quilt that can physically be mounted on the Gammill Long Arm Quilter that is MAX 3m width x 7m length.
Any quilt bigger than these dimensions will be returned unquilted.
How will you get my quilt back to me?
Once I have completed your quilt, I can call you and let you know it is ready to collect. Or I can courier your quilt back to you. The cost of courier will be advised to you (cost vary based on size and destination). I can email your tracking information to you once your quilt has been shipped.